Pilot europe améliore ses prévisions avec AZAP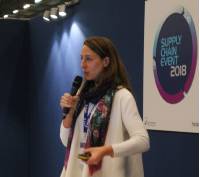 SUPPLY CHAIN EVENT, LE 11/12/2018
Perrine Prost, Responsable Planning et Approvisionnement PILOT CORPORATION OF EUROPE, a présenté au cours d'un atelier au Salon Supply Chain Event, le 11 décembre après-midi, le projet MIKOMI : mise en place d'un processus prévisions de ventes et du logiciel AZAP. Un moyen d'initier une démarche de transformation de plus grande ampleur …
Retrouvez l'intervention de Perrine Prost en intégralité à la fin de cet article
AZAP a sollicité son client PILOT CORPORATION OF EUROPE pour présenter le projet MIKOMI de mise en œuvre d'un outil et d'un processus collaboratif de prévisions de ventes en Europe, le 11 décembre après-midi, lors de Supply Chain Event. Une cinquantaine de personnes ont assisté à l'exposé de Perrine Prost, Responsable Planning & Approvisionnement PILOT CORPORATION OF EUROPE. Le leader de l'écriture dans le monde est un groupe japonais présent dans plus de 100 pays. Il réalise 820 M€ de CA, dont les deux tiers à l'export. L'Europe compte pour 165 M€ du CA et s'appuie sur 35 distributeurs pour desservir 45 pays (EMEA).
AZAP, un outil complet facile d'accès
Le projet prévisions de ventes a été lancé pour améliorer la satisfaction client dans un contexte de « Supply Chain en cours de construction, a estimé Perrine Prost. Nos commandes au Japon sont effectuées une fois par mois, avec 4 mois de délai de livraison. Notre distribution est peu intégrée : 75 % des distributeurs sont extérieurs au groupe. Nous manquions de visibilité. Il y a 5 ans, une personne a été nommée pour élaborer des prévisions sur Excel ». Le projet MIKOMI (qui signifie prévision, avec une notion d'espérance, en Japonais) a été lancé pour améliorer le taux de service client, réduire les stocks et les opérations de déstockage, ainsi qu'optimiser les capacités de production usine (en vue d'éviter les retards). Le projet a avancé selon 2 axes : mettre en œuvre un outil de prévision de ventes et un processus collaboratif. « Nous avons choisi AZAP en 2016 pour sa gestion des promotions, et parce que c'est un outil complet facile d'accès. Nous avons tout de suite eu un bon fit avec l'équipe AZAP », a déclaré Perrine Prost. « La mise en place d'AZAP nous a aidé à structurer notre processus de prévision », a-t-elle poursuivi.
Une prise de conscience de l'importance de la Supply Chain
Ce projet s'est bien déroulé et poursuit son déploiement (mise en œuvre d'AZAP chez PILOT PEN en Allemagne). Il devrait déboucher sur le projet MIKOMI 2020 de mise en œuvre de prévisions locales, d'un processus S&OP et de encore plus d'échanges et de collaboration. « Ce projet a contribué à faire prendre conscience au siège de l'importance de la Supply Chain », a conclu avec enthousiasme Perrine Prost.