AZAP4.0: a software services and business graphical interface platform for an agile and responsible Supply Chain
Our consumption habits are changing rapidly, we are faced with a growth of major events, we must minimize our environmental impact. So many challenges for your Supply Chain, which must also adapt to the development of digital commerce.
The IT tool for managing your Supply Chain is no longer able to evolve and you need a new generation of platform that is flexible, agile and easy to evolve.
This is the mission that AZAP4.0 has given itself: to provide you with a management environment for your Supply Chain that helps you face these new challenges and make it a key element in the development of your competitive advantage.
AZAP4.0 is the result of 3 years of investment in R&D, guided by the challenges of our time that impact supply chains:
A need for agility and flexibility to respond quickly to the increasing number of disruptions

The ability to handle large volumes of data while ensuring optimal runtime performance

Sophisticated and intelligent AI-powered optimization functions to manage increasingly complex sourcing processes as a result of omnichannel commerce

Very intuitive user interfaces to increase efficiency and avoid often costly errors in the Supply Chain

And finally, very advanced RPA-type automation, to free up time for operational staff to focus on more complex and strategic situations
The result is the functional architecture below, very simple while being powerful in these modeling and automation possibilities, and easy to set up and use: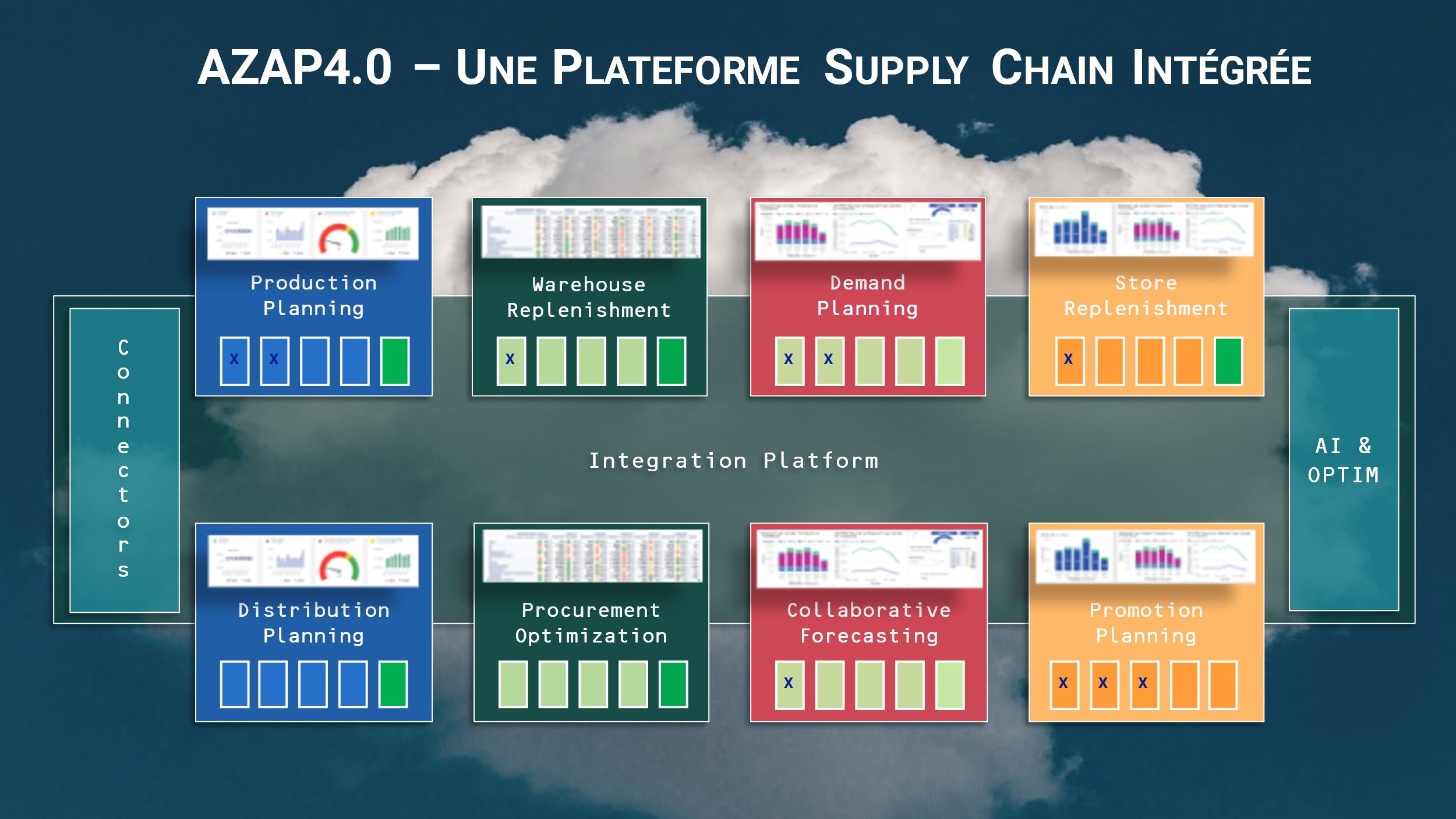 AZAP4.0 is made up of a set of business software services, along with business graphical interface components as well, which can be called up on demand.
You work from an integrated system to align organizations with your Supply Chain priorities: improve visibility, responsiveness and productivity, from your suppliers to stores / points of sale
"In order to follow the growth of STOKOMANI, we were able to benefit from the new version AZAP4.0 Store Replenishment. This platform renews the ergonomics of the tool for the greatest pleasure of users, increases speed and computing power, while maintaining the clarity and historical efficiency of the module "
Benoît CRUYPELINCK
Procurement Director , Stokomani
Production Planning
This module offers a full range of business software services to make the work of the production planner simpler and more efficient.
The objectives of this module can be summed up in the following 3 points:
Improving customer service through better anticipation and optimized resource allocation

Lower costs and improved productivity through reduced outsourcing, emergencies, last-minute changes and campaign optimization.

A reduction in stocks through better use of resources and a more efficient product mix.
The main software services available are:
The calculation of production plans by product family over the medium term (12 to 36 months).

Optimization of the allocation of production needs to the various production and storage sites.

The detection of bottlenecks.

Load / capacity simulation functions in support of decision support.
Other software services also make it possible to perform production plan calculations for multi-site environments, with:
Calculation of production needs per item (6 to 18 months).

Optimization of the allocation of production needs to the various production sites

Taking into account the environmental impact in each scenario

The automatic calculation of the safety stocks to be implemented.
Distribution Planning
Closely linked to the production planning module, the distribution planning module aims to provide you with:
Global inventory optimization by providing an overview and facilitating inter-site assignment / reassignment planning.

Improved customer service thanks to an integrated view of the supply chain and therefore a faster planning cycle.
The main business software services provided are intended in particular to:
Calculate the material and packaging supply plan, including:

Optimization of the plan and transfers

Calculation of the Distribution Plan by optimizing the stocks of each warehouse

Optimization of the allocation of stocks on the various distribution platforms

Optimization of transport costs and environmental impact.

While allowing global or local optimization:

Simultaneous / differentiated optimization of Transport, Production and Distribution Plans,

The possibility of favoring one or the other approach.
Warehouse Replenishment
This module benefits from AZAP's long experience in carrying out projects to optimize supplier supply and platform stocks.
It has 2 main objectives:
Improve the financial performance of the company by reducing the costs of purchasing, inventory and transport, while controlling the environmental impact of your supplies.

Reduce the workload of suppliers to increase volumes processed, improve the quality of procurement decisions and focus on high value-added activities and customer service.
The module thus makes it possible to optimize and plan the replenishment of your stocks in your network according to demand plans, your stock policy and many other various factors such as the environmental impact.
You define the target products whose sales performance you want to increase and the software supports you in improving service levels and the corresponding turnover.
Its originality lies in a significant know-how contained in the software services offered and other business rules, and an original approach for the evaluation of stock policies and its ability to go as far as the management and placing of orders automatically.
It is made up of a comprehensive suite of procurement software services that make the procurement process simpler and more efficient. It is thus possible to automatically generate a provisional supply and stock plan.
Dedicated roadmap-type graphical user interfaces display specific alerts and offer you the possibility of placing orders with your suppliers automatically or after automatic filtering and control by you.
In the trading sector, a software service specific to this business is available to implement your exemption policies.
List of the main business software services available:
Selective inventory policy in accordance with the commercial strategy ​
Automatically calculates inventory policies by integrating the target service rate, product classification and supplier lead times to deal with forecast uncertainties and manage replenishment thresholds, quantities and frequencies. This software service alerts you to dormant stocks, overstocks, DLC / DLUO …
Planning of storage capacities
Dimensions your storage and reception capacities. You project your stocks in quantity and value thanks to the medium-term supply plan which automatically exploits your sales history.
Overall benefits:
From unconstrained planning to constrained planning, the AZAP4.0 Warehouse Replenishment module helps align organizations with priorities derived from demand forecasts to improve service levels and increase sales.
Procurement Optimization
This module is a complement to the Warehouse Replenishment module. It provides the latter with information related to your supplier contracts, typically pricing and supply conditions for each supplier – platform link, with the aim of optimizing your purchasing costs.
The main business software services available in this module revolve around the following 3 families:
Integration of tariff schedules

Order valuation

Optimization of supply conditions.
In details :
Optimization of supplies according to the constraints expressed
To automatically develop the optimal supply plan (best batches according to the scale bands) taking into account the constraints expressed:: economic batches to the product or to the family, free from the supplier, economic conditions, etc.
Optimization of total costs
To manage price lists in order to buy from the best supplier, at the best price in compliance with negotiated multi-supplier contracts: speculation in the event of a purchase promotion, minimum purchase before a price drop, exploitation of current exemptions …
Contrats et Engagements Fournisseurs​
To integrate deadlines, schedules, schedules, top supplier schedules, as well as supplier delivery contracts and commitments.
Connaissance des Fournisseurs​
To calculate supplier performance indicators from the monitoring of orders and their receipts: reliability, OTIF (On Time In Full), actual deadlines, etc.
Demand Planning
The objectives of this module are multiple but help to focus on important and urgent subjects, thanks to the roadmap of the forecaster, his alert functions and his very advanced automation.
It is made up of a full range of business software services that make the forecaster's job easier and much more efficient.
You can thus:
structure and standardize your forecasting processes within a single solution, for each of your sales channels and each of your subsidiaries;

adapt forecasts as appropriate with promotions or particular events;

automatically correct histories thanks to its integrated learning methods;

connect your forecasts with data available outside your company;

actively manage your product portfolio by setting up product launches, stops, replacements, promotions and promotion campaigns as well as promotional operations;

use the main Key Performance Indicators (KPI) such as forecast reliability, bias or even visualize your financial landing to continuously review and improve your processes and further improve performance.
AZAP4.0 Demand Planning business software services analyze your sales history (customers and consumers) as well as your historical sales & marketing data in order to automatically forecast future demand, calibrate the margin of error and build a production and / or supply to meet demand, taking into account available resources and all of your constraints.
Its originality lies in its ability to forecast demand and calculate the uncertainty of forecasts, including for new products or without history, thanks to its integrated AI modules.
The most notable benefits are the improved customer service rate and the significant reduction in unplanned supplies, ultimately generating significant cost reductions.
Collaborative Forecasting
The objective of this module is to align organizations and company managers with a concerted vision of forecast demand. To do this, this module, which supplements AZAP4.0 Planning Request, facilitates the sharing of forecasts calculated centrally with the field teams.
Its intuitive interface makes it easy to integrate data from sales, marketing and finance departments, as well as from subsidiaries, on the one hand, complete and adjust the forecast calculations resulting from statistical modeling, and on the other hand, validate them through a collaborative process.
Integrating an easily configurable workflow, AZAP4.0 Collaborative Forecasting gives visibility on your monthly forecasting process (or even more frequent) and guides you in your validation or input operations by the field teams.
Store Replenishment
The objective of this module and the business software services provided is to optimize the supply of points of sale and the environmental impact, while respecting:
transport constraints,
the very random nature of sales for certain products,
reception capacities,
the costs related to the frequency of supply.
This module offers many business software services:
Stock policy
A service which makes it possible to define and implement a selective inventory policy in accordance with the commercial strategy.
It is thus possible to adapt its stock policy to fluctuations in demand, and thus accelerate your "cycle to cash".
Products and Assortments Portfolio
This business software service makes it possible to define the assortment plan for each point of sale in order to optimize its calculation during an initial establishment, a store opening, a promotional operation or a regular restocking.
Réallocation
Flow optimization software services for all sales channels are also available.
For example, it is possible to automatically work out network reallocations to avoid outages and overstocks. In the event of a shortage, it allocates the available quantities according to various priority rules (distribution channel or format, customers, products, etc.).
Grouping
A business service also makes it possible to calculate the groupings of replenishment of several stores in the same area to optimize deliveries (multi-drop), in particular in the case of direct supplier. Various distribution scenarios can thus be simulated to help you find the best in each situation.
Management of stocks in the distribution network by the service level​
A software service makes it possible to manage multi-site and multi-level distribution networks (central warehouses, depots, stores).
It takes into account the allocation by site of the different types of references and their deployment methods (e.g. seasonal products received centrally and then deployed directly to stores according to their sales potential or regular restocking of back-end products since a regional depot).
Based on delivery times and service levels, AZAP determines the catchment area and optimal stock levels for each point of the distribution network.
Promotion Planning
This module is dedicated to the early / proactive management of promotions and other commercial operations, from their creation to their end of life.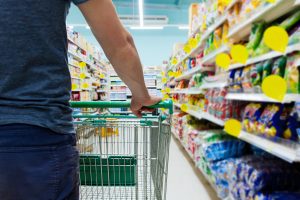 It is aimed at manufacturers who wish to anticipate and plan their promotional campaigns, from the planning of an event in the budget for year Y + 1, to its recognition in the financial statement, and this at the finest level.
by brand (and its market share)

per unit of needs or products, and volumes

by period, month

by type of promotion,

etc.
while respecting the expectations of marketing.
An intuitive user interface is associated with it to plan, simulate and manage all your promotional operations or events (NPI – New Promotional Instruments) in a single environment.
An operation will typically concern a target brand, a product, action dates, forecast volumes as well as a detailed description of the operation and its parameters.
The module also makes it possible to establish budgets for promotion operations, to plan all operations through a workflow and to produce the corresponding financial statements in order to carry out budgetary control at a very fine level of detail.